Londonderry, NH
The Champagne Family
Spaghetti Squash Bolognese
Ingredients

1 spaghetti squash
1 pound ground beef
1 large onion - chopped
1 tablespoon minced garlic
2 tablespoon extra virgin olive oil
1 15 oz can of organic tomato sauce
1/4 cup fresh parsley - chopped
Salt & Pepper
1/4 teaspoon of red pepper flakes
1 teaspoon dried oregano
1 teaspoon dried rosemary




Recipe Info


Category : Meat/Poultry
Rating : 5
Contributor : kmc500
Print Recipe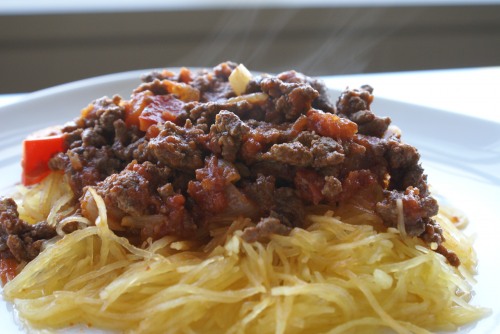 Directions
Cut your squash in half lengthwise. (Note - you can cut it in half the other way but I like my squash to have longer strands so that I think I'm getting a 'noodle'. I know - we all know it's not pasta but I can pretend can't I?) Be careful to have a firm grip on your squash - cutting these guys can be a bit dangerous. Once you've halved the squash, you can either bake it in the oven for 30 minutes at 350 degrees or microwave it. I personally microwave mine because it's easier and faster for me You can microwave for 7-8 minutes. Let cool for a few minutes.

Feel free to do any type of sauce with the spaghetti squash. It will absorb any flavor you want.

Once your squash has cooled, take a fork and simply just fork out the squash noodles. Just be mindful to separate and take out the seeds and the seed strands. It is incredibly fast and easy. These 'noodles' taste great and are so easy to make. They have a high water content so keep that in mind when you add sauces. Once you have finished your bolognese sauce, just add on top of these noodles. Serve and enjoy!