Ingredients

4 cups shredded unpeeled zucchini
1/2 teaspoon salt
2 eggs
1/2 cup grated Parmesan cheese
2 cups (8 ounces) shredded part-skim mozzarella cheese, divided
1 cup (4 ounces) shredded cheddar cheese, divided
1 pound ground beef
1/2 cup chopped onion
1 can (15 ounces) Italian tomato sauce
1 medium green pepper, chopped




Recipe Info


Category : Meat/Poultry
Rating : 5
Contributor : suz
Print Recipe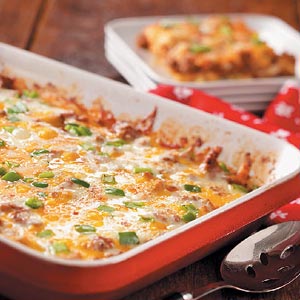 Directions
Place zucchini in strainer; sprinkle with salt. Let stand for 10 minutes. Squeeze out moisture.

Combine zucchini with the eggs, Parmesan and half of the mozzarella and cheddar cheeses. Press into greased 13-in. x 9-in. baking dish.

Bake, uncovered, at 400° for 20 minutes. Meanwhile, cook beef and onion over medium heat until meat is no longer pink; drain. Add tomato sauce; spoon over zucchini mixture.

Sprinkle with remaining cheeses; add green pepper. Bake 20 minutes longer or until heated through. Yield: 6-8 servings.


This is a new favorite from tasteofhome.com

Nutritional Facts 1 serving (1 cup) equals 311 calories, 20 g fat (11 g saturated fat), 132 mg cholesterol, 754 mg sodium, 9 g carbohydrate, 2 g fiber, 25 g protein.