Ingredients

1/3 cup butter, cubed
1 tablespoon finely chopped onion
1 cup diced cooked ham
3 tablespoons all-purpose flour
1-1/2 cups cream
1 cup shredded cheddar cheese
3/4 teaspoon salt
Dash white pepper
Minced fresh parsley




Recipe Info


Category : Meat/Poultry
Rating : 5
Contributor : n/a
Print Recipe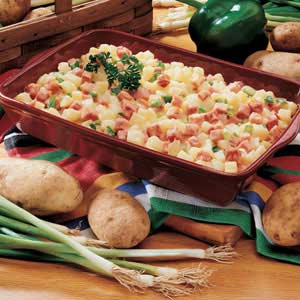 Directions
In a greased 1-qt. baking dish, combine potatoes, ham and onion; set aside.

In a saucepan, melt butter over medium heat; stir in flour until smooth. Gradually add milk. Bring to a boil; cook and stir for 2 minutes or until mixture is thickened and bubbly. Add cheese, salt and pepper; stir until the cheese is melted. Pour over potato mixture and stir gently to mix.
Bake, uncovered, at 350° for 35-40 minutes or until bubbly. Garnish with parsley.