Ingredients

2 cups of whole (or pieces, I buy what is ever on sale) of pecans.
Honey
Sugar
Kosher Salt
Hot water




Recipe Info


Category : Desserts
Rating : 0
Contributor : kmc500
Print Recipe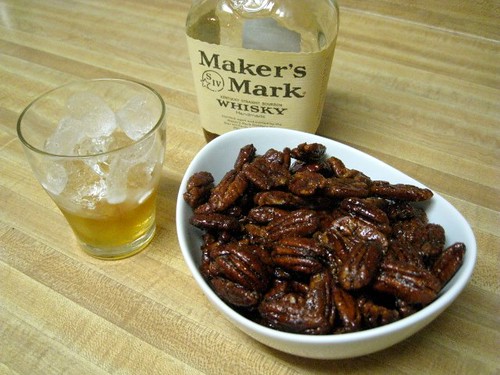 Directions
Drizzle about two to three tablespoons of honey on your nuts.
Pour about a 1/4 - 1/3 cup of hot water over the honeyed nuts and stir. The hot water will help evenly coat your pecans with honey, and keep them moist during roasting.
Sprinkle on a generous pinch of kosher salt, about a teaspoon or so, and about 1-2 tablespoons of sugar. Mix well.
If you want to spice them up a little bit with some freshly ground pepper or chili flakes, you can. Personally, I prefer the sweet and salty mix.
Pour everything - including the honey-sugar-water still at the bottom of your bowl onto your lined cookie sheet.
Feel like gambling and using an unlined pan? You're either going to be doing dishes for a week or just buying yourself a new cookie sheet. Your call.
Bake for 15 minutes. Take the pan out of the oven, add a 1/2 teaspoon of salt and another tablespoon of sugar, and stir until evenly coated. Put the pan back in the oven for 15 more minutes.
Repeat the step above. You should have hardly any water left on the pan, so if you need a touch more hot water just to make sure the salt and sugar are evenly covering your pecans, you can.
Repeat a third time, but omit the salt. You should be tossing just nuts, syrup, and sugar for the last go around.
Place back in the oven for 15 more minutes.
Remove from oven and spread on a clean piece of parchment paper to cool and dry.